Victoria's Secret Bombshell Set Of 3 Sample/Decant
Rs. 2,200.00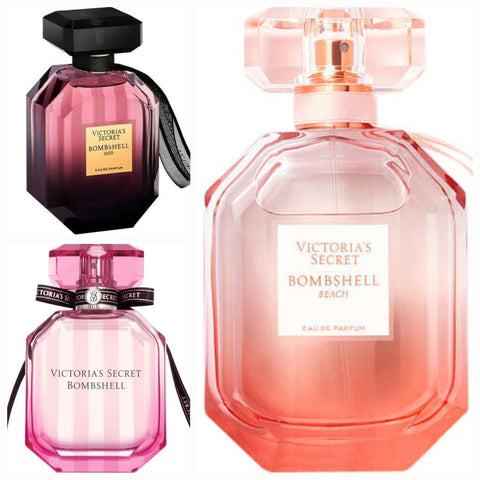 This Set Includes Of 10ml/20ml/30ml Of Below Listed Fragrances:
1. Victoria's Secret Bombshell Oud-At the heart is a dark varietal of the Bombshell Collection's signature flower: Sueded Peony. The entire fragrance is enveloped in the rich signature of the star ingredient: Oud. Complex and smoky, this mystical wood lingers on the skin with deep, warm magnetism. At once powerful, delicate and sophisticated.
2. Victoria's Secret Bombshell- There's a Bombshell in every woman. A sparkling mix of fresh-cut peonies and afternoon sun. Citrus notes and Brazilian Purple Passion Fruit start Bombshell off with bright, exotic sparkle. The heart of the fragrance blooms with Bombshell's signature floral: clean, petally Shangri-la Peony from Tibet. Madagascan Vanilla Orchid adds a creamy-sweet element. But it's Italian Sunstruck Pine that gives Bombshell its inimitable aromatic twist.
3. Victoria's Secret Bombshell Beach- The fragrance opens with a bright hit of Grapefruit and Black Currant. Tropical Lily of the Valley and radiant woods add the warmth of the sun. It's a sun-drenched blend of tropical florals and bright grapefruit at the beach— capturing the scents and feel of luxuriating in the sand at an exclusive island escape."
These Are Handpicked, Loveable By All & Definitely An Compliments Getter.!!
[Please Note-These Are Decants/Samples Which Comes In Customised 10ml/20ml/30ml Bottles Decanted From The Above Original Bottles]
Victoria's Secret Bombshell Set Of 3 Sample/Decant
Victoria's Secret Bombshell Set Of 3 Sample/Decant
This Set Includes Of 10ml/20ml/30ml Of Below Listed Fragrances: 1. Victoria's Secret Bombshell Oud-At the heart is…
Description

This Set Includes Of 10ml/20ml/30ml Of Below Listed Fragrances:

1. Victoria's Secret Bombshell Oud-At the heart is a dark varietal of the Bombshell Collection's signature flower: Sueded Peony. The entire fragrance is enveloped in the rich signature of the star ingredient: Oud. Complex and smoky, this mystical wood lingers on the skin with deep, warm magnetism. At once powerful, delicate and sophisticated.

2. Victoria's Secret Bombshell- There's a Bombshell in every woman. A sparkling mix of fresh-cut peonies and afternoon sun. Citrus notes and Brazilian Purple Passion Fruit start Bombshell off with bright, exotic sparkle. The heart of the fragrance blooms with Bombshell's signature floral: clean, petally Shangri-la Peony from Tibet. Madagascan Vanilla Orchid adds a creamy-sweet element. But it's Italian Sunstruck Pine that gives Bombshell its inimitable aromatic twist.

3. Victoria's Secret Bombshell Beach- The fragrance opens with a bright hit of Grapefruit and Black Currant. Tropical Lily of the Valley and radiant woods add the warmth of the sun. It's a sun-drenched blend of tropical florals and bright grapefruit at the beach— capturing the scents and feel of luxuriating in the sand at an exclusive island escape."

These Are Handpicked, Loveable By All & Definitely An Compliments Getter.!!

[Please Note-These Are Decants/Samples Which Comes In Customised 10ml/20ml/30ml Bottles Decanted From The Above Original Bottles]