Silky Sweet Exclusive Set For Her Sample/Decant
Rs. 2,200.00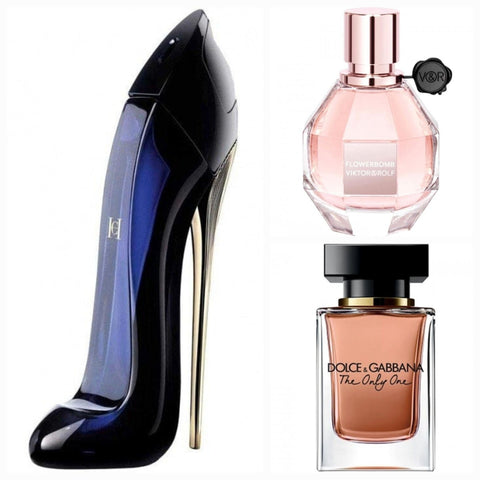 This Set Includes Of 10ml/20ml/30ml Of Below Listed Fragrances:
1. Viktor & Rolf Flowerbomb- Flowerbomb by Viktor and Rolf explodes with scents of jasmine and rosebuds. These floral fragrances are accented by a comforting vanilla and patchouli and base. This women's perfume emits true feminine power through deep floral fragrances.
2. Dolce & Gabbana The Only One- The Only One by Dolce&Gabbana is a Amber Vanilla fragrance for women. The Only One was launched in 2018. Top notes are Violet, Orange and Bergamot; middle notes are Coffee, Pear, Iris, Orange Blossom and Rose; base notes are Caramel, Vanilla and Patchouli.
3. Carolina Herrera Good Girl EDP- The sweet, breathtaking and alluring qualities of Jasmine, bring Good Girl a bright of femininity. The Good Girl's mysterious side is express with richly fragrant Cocoa, an exciting Tonka while Almond and Coffee bring notes of bold vibrancy.
These Are Handpicked, Loveable By All & Definitely An Compliments Getter.!!
[Please Note-These Are Decants/Samples Which Comes In Customised 10ml/20ml/30ml Bottles Decanted From The Above Original Bottles]
Silky Sweet Exclusive Set For Her Sample/Decant
Silky Sweet Exclusive Set For Her Sample/Decant
This Set Includes Of 10ml/20ml/30ml Of Below Listed Fragrances: 1. Viktor & Rolf Flowerbomb- Flowerbomb by Viktor…
Description

This Set Includes Of 10ml/20ml/30ml Of Below Listed Fragrances:

1. Viktor & Rolf Flowerbomb- Flowerbomb by Viktor and Rolf explodes with scents of jasmine and rosebuds. These floral fragrances are accented by a comforting vanilla and patchouli and base. This women's perfume emits true feminine power through deep floral fragrances.

2. Dolce & Gabbana The Only One- The Only One by Dolce&Gabbana is a Amber Vanilla fragrance for women. The Only One was launched in 2018. Top notes are Violet, Orange and Bergamot; middle notes are Coffee, Pear, Iris, Orange Blossom and Rose; base notes are Caramel, Vanilla and Patchouli.

3. Carolina Herrera Good Girl EDP- The sweet, breathtaking and alluring qualities of Jasmine, bring Good Girl a bright of femininity. The Good Girl's mysterious side is express with richly fragrant Cocoa, an exciting Tonka while Almond and Coffee bring notes of bold vibrancy.

These Are Handpicked, Loveable By All & Definitely An Compliments Getter.!!

[Please Note-These Are Decants/Samples Which Comes In Customised 10ml/20ml/30ml Bottles Decanted From The Above Original Bottles]