Le Labo Exclusive Set
Rs. 2,400.00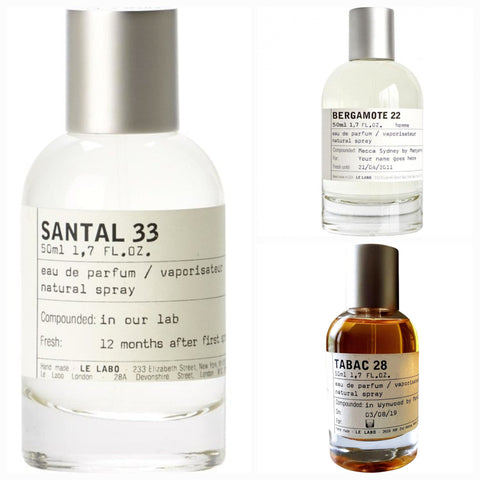 This Set Includes Of 10ml//20ml/30ml Of Below Listed Fragrances:
1. Le Labo Santal 33- It combines a mix of cardamom and notes of iris and violet, which crackle in the formula. Added to this smoking wood alloy (Australian sandalwood, cedarwood) are some spicy, leathery, musky notes, giving this perfume its signature and addictive comforting scent.
2. Le Labo Bergamot 22- It's the delicate floral character of petit grain, the bitterness of grapefruit, as well as the flamboyant sweetness of amber and musk with a virile touch of vetiver, which gives BERGAMOTE 22 its unique personality.
3. Le Labo Tabac 28- Tabac 28 is a new city exclusive by Le Labo. Tabac 28 is exclusively sold in Le Labo Miami boutique.It is a smoky tobacco perfume featuring smoky and rich notes of tobacco leaves, rum, cedarwood, and green cardamom.
These Are Handpicked, Loveable By All & Definitely An Compliments Getter.!!
[Please Note-These Are Decants/Samples Which Comes In Customised 10ml/20ml/30ml Bottles Decanted From The Above Original Bottles
Le Labo Exclusive Set
This Set Includes Of 10ml//20ml/30ml Of Below Listed Fragrances: 1. Le Labo Santal 33- It combines a…
Description

This Set Includes Of 10ml//20ml/30ml Of Below Listed Fragrances:

1. Le Labo Santal 33- It combines a mix of cardamom and notes of iris and violet, which crackle in the formula. Added to this smoking wood alloy (Australian sandalwood, cedarwood) are some spicy, leathery, musky notes, giving this perfume its signature and addictive comforting scent.

2. Le Labo Bergamot 22- It's the delicate floral character of petit grain, the bitterness of grapefruit, as well as the flamboyant sweetness of amber and musk with a virile touch of vetiver, which gives BERGAMOTE 22 its unique personality.

3. Le Labo Tabac 28- Tabac 28 is a new city exclusive by Le Labo. Tabac 28 is exclusively sold in Le Labo Miami boutique.It is a smoky tobacco perfume featuring smoky and rich notes of tobacco leaves, rum, cedarwood, and green cardamom.

These Are Handpicked, Loveable By All & Definitely An Compliments Getter.!!

[Please Note-These Are Decants/Samples Which Comes In Customised 10ml/20ml/30ml Bottles Decanted From The Above Original Bottles