Bvlgari Le Gemme Exclusive Set
Rs. 2,400.00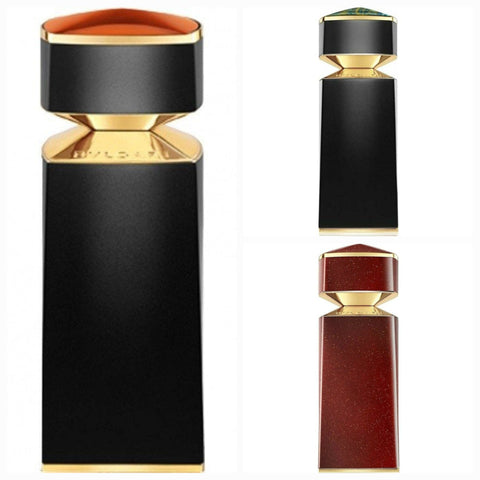 This Set Includes Of 10ml/20ml/30ml Of Below Listed Fragrances:
1. Bvlgari Le Gemme Azaran- Bvlgari's expertise in fine jewellery informs the rich scent of Le Gemme Azaran. Taking inspiration from the fiery aventurine gem which conjures the dynamic nature of the earth, the woody eau de parfum boasts a complex profile of leather, rare saffron, and alluring red cedarwood.
2. Bvlgari Le Gemme Falkar- Inspired by the famed blue-green iridescence of the falcon's eye of Brazil, Le Gemme Falkar draws its power from the protective stone of travelers. A symbol of freedom and focused precision, the gem is inseparable from the majestic all-seeing bird that inspires the fragrance's name, and the long tradition of falconry.
3. Bvlgari Le Gemme Ambero- A warm woody ambery Eau de Parfum crafted from noble, earthy vetiver root and modernized with the spice of ginger. Conjuring the resplendent glow of Kahraman amber, Le Gemme Ambero celebrates a gem that represents the most ancient, natural treasure of the Mediterranean Levant.
These Are Handpicked, Lovable By All & Definitely An Compliments Getter.!!
[Please Note-These Are Decants/Samples Which Comes In Customised 10ml/20ml/30ml Bottles Decanted From The Above Original Bottles]
Bvlgari Le Gemme Exclusive Set
Bvlgari Le Gemme Exclusive Set
This Set Includes Of 10ml/20ml/30ml Of Below Listed Fragrances: 1. Bvlgari Le Gemme Azaran- Bvlgari's expertise in…
Description

This Set Includes Of 10ml/20ml/30ml Of Below Listed Fragrances:

1. Bvlgari Le Gemme Azaran- Bvlgari's expertise in fine jewellery informs the rich scent of Le Gemme Azaran. Taking inspiration from the fiery aventurine gem which conjures the dynamic nature of the earth, the woody eau de parfum boasts a complex profile of leather, rare saffron, and alluring red cedarwood.

2. Bvlgari Le Gemme Falkar- Inspired by the famed blue-green iridescence of the falcon's eye of Brazil, Le Gemme Falkar draws its power from the protective stone of travelers. A symbol of freedom and focused precision, the gem is inseparable from the majestic all-seeing bird that inspires the fragrance's name, and the long tradition of falconry.

3. Bvlgari Le Gemme Ambero- A warm woody ambery Eau de Parfum crafted from noble, earthy vetiver root and modernized with the spice of ginger. Conjuring the resplendent glow of Kahraman amber, Le Gemme Ambero celebrates a gem that represents the most ancient, natural treasure of the Mediterranean Levant.

These Are Handpicked, Lovable By All & Definitely An Compliments Getter.!!

[Please Note-These Are Decants/Samples Which Comes In Customised 10ml/20ml/30ml Bottles Decanted From The Above Original Bottles]