Bvlgari Aqva Exclusive Set
Rs. 1,650.00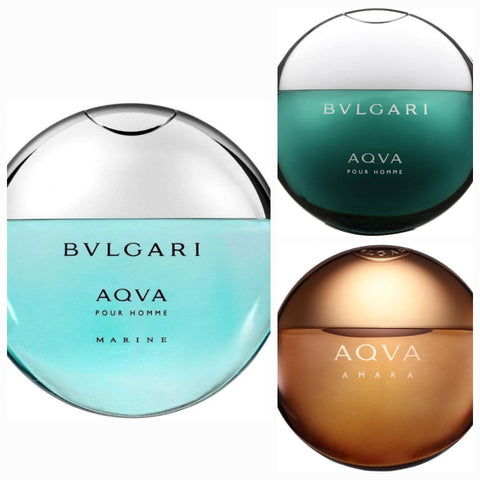 This Set Includes Of 10ml/20ml/30ml Of Below Listed Fragrances:
1. Bvlgari Aqva Pour Homme- A very masculine scent that's balanced by a citrusy, fruity tone, Bvlgari Aqua cologne for men by Bvlgari is perfect for the man's man who also has an appreciation for subtlety, complex tones and contemporary style. This casual fragrance, first introduced by Bvlgari in 2005, has a sexy, mature character punctuated by notes of amber, santolina, petit grain, posidonia and mandarin. For the sophisticated and modern man on the go, Bvlgari Aqua is the perfect choice.
2. Bvlgari Aqva Marine Pour Homme- The mesmerising fragrance of Bvlgari Aqva Marine for Men can just be your way of smelling nice in all seasons. Offering a wonderful blend of essences from rosemary flower, grape fruit, neroli bigarade, cedar wood, grapefruit and pine needle, this fragrance can leave you with a long lasting smell all day long. The presence of these enriching ingredients in this perfume leads to its unique and mystic smell, which can help you stand out amidst the crowd any time, whether in the day or the night.

3. Bvlgari Aqva Amara- Aqva Amara, or "bitter water", is a fragrance filled with energy and light symbolized with its copper color bottle. The composition includes accords of Sicilian mandarin mixed with oil of neroli flower. The base notes are Indonesian patchouli and white incense olibanum.
These Are Handpicked, Lovable By All & Definitely An Compliments Getter.!!
[Please Note-These Are Decants/Samples Which Comes In Customised 10ml/20ml/30ml Bottles Decanted From The Above Original Bottles]
Bvlgari Aqva Exclusive Set
Bvlgari Aqva Exclusive Set
This Set Includes Of 10ml/20ml/30ml Of Below Listed Fragrances: 1. Bvlgari Aqva Pour Homme- A very masculine scent that's…
Description

This Set Includes Of 10ml/20ml/30ml Of Below Listed Fragrances:

1. Bvlgari Aqva Pour Homme- A very masculine scent that's balanced by a citrusy, fruity tone, Bvlgari Aqua cologne for men by Bvlgari is perfect for the man's man who also has an appreciation for subtlety, complex tones and contemporary style. This casual fragrance, first introduced by Bvlgari in 2005, has a sexy, mature character punctuated by notes of amber, santolina, petit grain, posidonia and mandarin. For the sophisticated and modern man on the go, Bvlgari Aqua is the perfect choice.

2. Bvlgari Aqva Marine Pour Homme- The mesmerising fragrance of Bvlgari Aqva Marine for Men can just be your way of smelling nice in all seasons. Offering a wonderful blend of essences from rosemary flower, grape fruit, neroli bigarade, cedar wood, grapefruit and pine needle, this fragrance can leave you with a long lasting smell all day long. The presence of these enriching ingredients in this perfume leads to its unique and mystic smell, which can help you stand out amidst the crowd any time, whether in the day or the night.


3. Bvlgari Aqva Amara- Aqva Amara, or "bitter water", is a fragrance filled with energy and light symbolized with its copper color bottle. The composition includes accords of Sicilian mandarin mixed with oil of neroli flower. The base notes are Indonesian patchouli and white incense olibanum.

These Are Handpicked, Lovable By All & Definitely An Compliments Getter.!!

[Please Note-These Are Decants/Samples Which Comes In Customised 10ml/20ml/30ml Bottles Decanted From The Above Original Bottles]