Best Cherry Exclusive Set For Her Sample/Decant
Rs. 2,500.00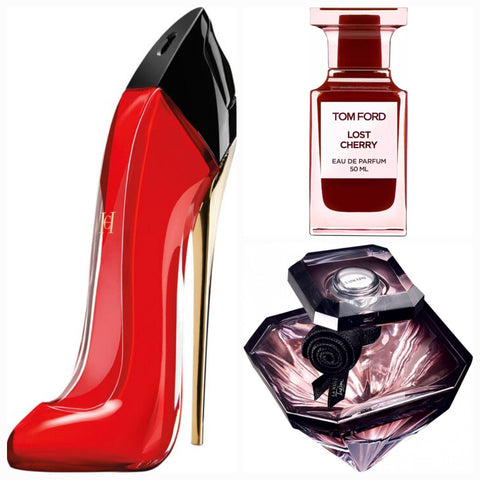 This Set Includes Of 10ml//20ml/30ml Of Below Listed Fragrances:
1. Tom Ford Lost Cherry- Lost Cherry's candy-like gleam of exotic black cherry and liqueur touched with teasing almond gives way to a Turkish rose and jasmine sambac blend that penetrates the senses. The full-bodied perfume attains fantasy-like levels of insatiability.
2. Lancome La Nuit Tresor-La Nuit Tresor is the Black Diamond of Lancome. The Black Rose, symbol of absolute love, and the Vanilla Tahitensis Orchid, perfumery's very own secret gem, combine with the sharpest green notes to create La Nuit Tresor's alluring character that is reminiscent of an electric night.
3. CH Very Good Girl- Very Good Girl takes you on a surprising olfactive journey, starting with top notes of playfully mischievous redcurrant and exotic lychee, leading to a seductive heart of rose. Vetiver and vanilla base notes provide a surprising and contemporary finish.
These Are Handpicked, Loveable By All & Definitely An Compliments Getter.!!
[Please Note-These Are Decants/Samples Which Comes In Customised 10ml/20ml/30ml Bottles Decanted From The Above Original Bottles
Best Cherry Exclusive Set For Her Sample/Decant
Best Cherry Exclusive Set For Her Sample/Decant
This Set Includes Of 10ml//20ml/30ml Of Below Listed Fragrances: 1. Tom Ford Lost Cherry- Lost Cherry's candy-like…
Description

This Set Includes Of 10ml//20ml/30ml Of Below Listed Fragrances:

1. Tom Ford Lost Cherry- Lost Cherry's candy-like gleam of exotic black cherry and liqueur touched with teasing almond gives way to a Turkish rose and jasmine sambac blend that penetrates the senses. The full-bodied perfume attains fantasy-like levels of insatiability.

2. Lancome La Nuit Tresor-La Nuit Tresor is the Black Diamond of Lancome. The Black Rose, symbol of absolute love, and the Vanilla Tahitensis Orchid, perfumery's very own secret gem, combine with the sharpest green notes to create La Nuit Tresor's alluring character that is reminiscent of an electric night.

3. CH Very Good Girl- Very Good Girl takes you on a surprising olfactive journey, starting with top notes of playfully mischievous redcurrant and exotic lychee, leading to a seductive heart of rose. Vetiver and vanilla base notes provide a surprising and contemporary finish.

These Are Handpicked, Loveable By All & Definitely An Compliments Getter.!!

[Please Note-These Are Decants/Samples Which Comes In Customised 10ml/20ml/30ml Bottles Decanted From The Above Original Bottles